My birthday Kindle is here! I knew I would enjoy/use it well, but I had never read the entire Amazon description before now. I had no idea that I could fill the Kindle with classic literature for free.
I can find the great works at the Amazon site or at other sites the store suggests, such as Project Gutenberg: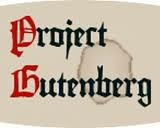 Project Gutenberg is the place where you can download over 33,000 free ebooks to read on your PC, iPad, Kindle, Sony Reader, iPhone, Android or other portable device.
http://www.gutenberg.org/wiki/Main_Page
I'm certainly going to enjoy burrowing in this winter with hundreds of classics at hand.
I know, I know, I already have hundreds of favorites in my bookcase, but the ability to hop between classics whenever I want, wherever I am is extraordinary.
I have the complete works of Shakespeare in my purse. All of Austin's novels are available while I'm waiting in line at the Secretary of State. I can delve into literature I've always planned to read, but never found time for while waiting in the car for Rick to grab some groceries. I just finished Stephen King's latest novel, and switched over to read a quick biography of Ralph Waldo Emerson. The Kindle is a bibliophile's dream.