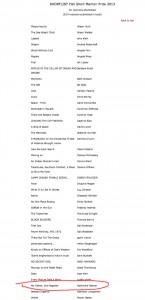 I was very surprised and excited to find my name on the Fish Publishing shortlist for the Short Memoir Contest. This is the first writing contest I've entered in nearly 20 years, so this is quite a thrill for me.
The short list has 81 entrants. The winner and nine runners-up will be published in the 2013 Fish Anthology.
The ten published authors will each receive five copies of the Anthology and will be invited to read at the launch during the West Cork Literary Festival in July.
Winners picked April 1.
Crossing my fingers and holding my breath until then…